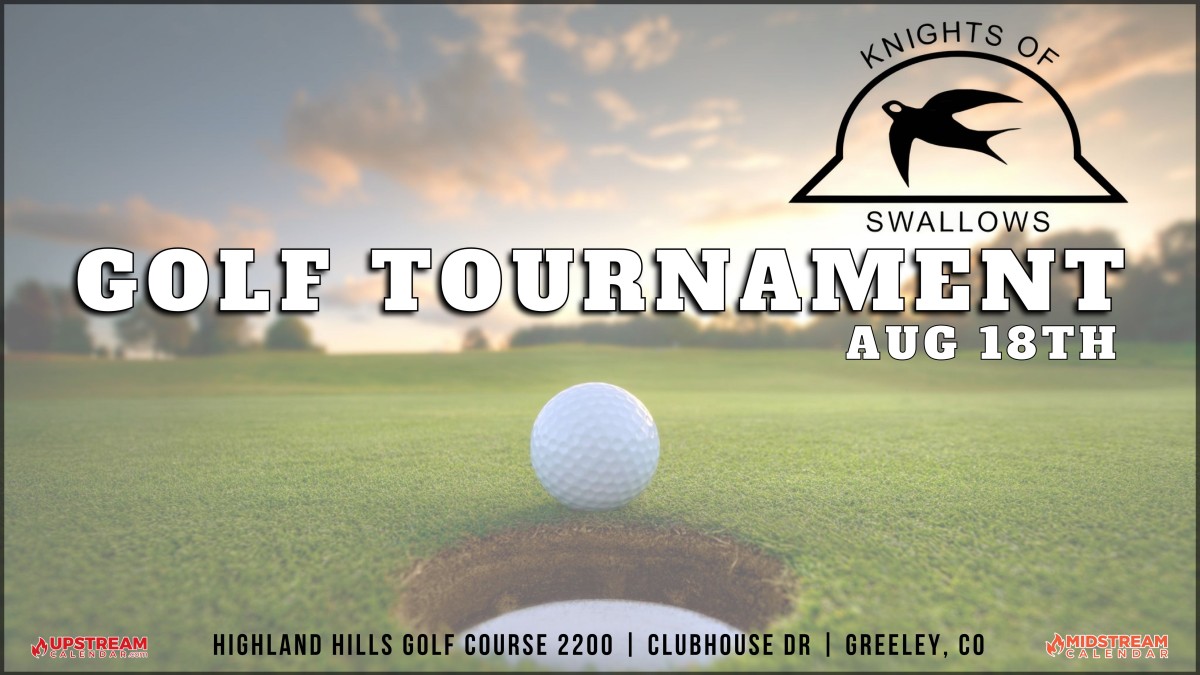 Register Now for the Knights of Swallows 33rd Annual Golf Tournament August 18, 2023 – Colorado
This Event Reminder is Sponsored by:

33rd Annual Golf Tournament
Rules and Events
Standard 4 Player Scramble Format
Two Putt & Bogey Maximum – Record score assuming your team would always make the 2nd PUTT!
Tee's: Men play from Blue; Women play from Red
Each Player must Tee-Off with their "Foot in the Bucket" on Hole 2
Each Player has one (1) Mulligan to use during the round.
Please keep up with the group ahead of you to stay on schedule!
Included with Tournament Registration
Hole 9: Closest to the pin (Men's and Women's Prizes)
Hole 13: Longest Drive in the Fairway (Men's and Women's Prizes)
(READ the marker signs BEFORE you sign them, please!!)
Pay As You Play or discounted "Game Pass"
Hole 5: Split the Pot with the Charity; Closest to the Pin
Bonus Putting Challenge with "Arnold Plumber" for everyone
Hole 7: Pro Drive Opportunity, or tee off using Bat
Hole 15: KOS Famous "Boat Hole"; Split the Pot with Charity
Hole 17: Split the Pot with the Charity; Closest to the Pin
UpstreamCalendar.com was created to help the industry to synchronize by providing a free lookahead for key industry events across the world. We focus on news and events and non-profit support. We support community outreach, and industry specific 2023-2024 Oil and Gas trade shows and conferences for Upstream. These include Offshore Wind, Offshore Drilling, Subsea, & Land Drilling,. We are FROM Upstream, FOR Upstream and believe in Networking With A Purpose. Allstream Energy Partners puts all streams of energy together through our media outlets in Midstream, Downstream, Renewable Energy and Upstream.