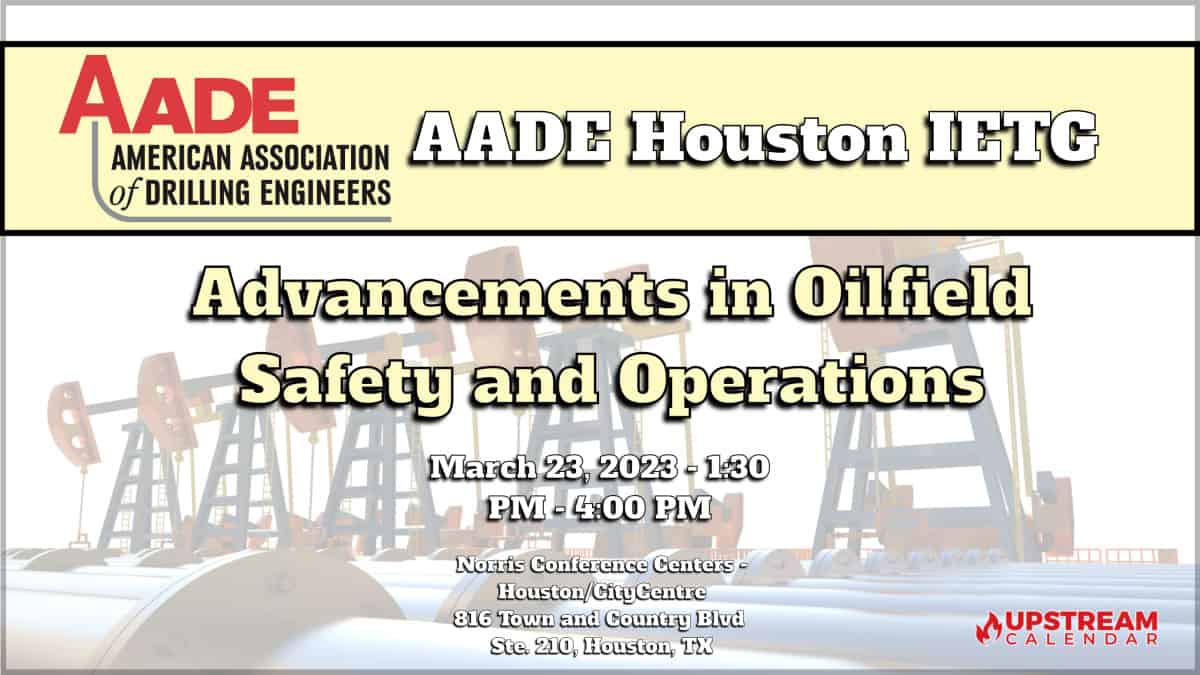 Advancements in Oilfield Safety and Operations -by AADE Houston IETG Meeting Thursday, March 23, 2023
This Event Reminder is Sponsored by:

AADE Houston IETG Meeting
When: Mar 23, 2023 @ 1:00 PM to 4:00 PM
Want to SPONSOR the IETG Meetings? The cost is $600 for the calendar year.
REGISTER HERE
DATE: Thursday, March 23, 2023 – 1:30 PM – 4:00 PM
LOCATION: Norris Conference Center – CityCentre (Pecan Room), 816 Town & Country Blvd., Suite 210, Houston, TX 77024
The Norris CityCentre facility is located at the corner of intersection of IH-10 West and Beltway 8. The location features plenty of complimentary parking.
IMPORTANT NOTE – For your convenience, we encourage you to park in the garage that is attached to the Norris Centers location (enter the parking garage from Beltway 8). Take the "up" ramp in the middle of the parking garage. You will see signs with the Norris name and logo directing you to the correct floors to park. Please note that a number of parking spaces are reserved for other tenants of the complex and have "reserved" signs identifying these spaces. There is plenty of parking, so please avoid parking in these reserved spots.
COST: Member: Free to attend / Non-member: $15
Non-members have the option to join as a member or renew your membership before registering, then the meeting cost will be free as well as all subsequent DTC meetings for 2023.
Program Topic: "Advancements in Oilfield Safety and Operations"
SPEAKERS:
1. Craig McCormick, Senior Manager Technology & Digital Solutions – Transocean
Presenting: "Redzone Exposure Reduction & Improved Performance Using Robotics"
Riser running and retrieval are labor-intensive activities that traditionally require multiple personnel working in the drill floor red zone, engaged in repetitive manual tasks, with some of the rig's heaviest equipment. The offshore drilling industry has experienced both injury and fatality in the past during riser operations along with near miss incidents. Transocean partnered with Offshore Robotics to bring the offshore industry a Robotic Riser system that automates all manual tasks in riser operations, enabling a step change in personnel safety by removing personnel from the red zone area, all while improving operational consistency and efficiency.
Craig McCormick leads a small team at Transocean tasked with developing and commercializing technologies that solve real offshore well construction problems. He has more than 30 years industry experience in both offshore operations and corporate roles covering fields such as subsea engineering, project management, technical management and technology development. Craig is named inventor on eight published patents and has authored articles for industry publications.
2. Tracy Cummins, Global Business Development Mgr., Tubular Running Services – Weatherford
Presenting "Automated Tubular System For Drilling, Casing and Completions"
The business model for Tubular Running Services (TRS or CTRS) is evolving where the operating companies are requiring these services to be included in the drilling contract (mostly for offshore, deep-water projects). Previously this has been a challenge for drillers to deliver due to several barriers, primarily the overall experience and expertise required for rigging, operations of equipment and training and competency required for analyzing premium connections. Weatherford's new Automated Tubular System for drilling, casing and completions breaks down these barriers using a hand's free, fast exchange, cassette system for automated rigging and computer-controlled makeup and analysis system for connections. The system can be fully integrated into the rig's control and anti-collision systems and operated from the driller's chair, resulting in a dramatic improvement in safety, efficiency and reduction in POB.
Tracy Cummins works in the Weatherford TRS Global Business Unit, tasked with developing and commercializing new technologies and supporting Weatherford's Geozones with general business strategy and customer engagement. He has over 35 years industry experience in offshore operations, deep-water project management, technical sales, and global product line management and business development. Tracy is a named inventor on a published patent and authored/co-authored several articles for industry publication and technical papers.
3. Andrew Glanville, General Manager – Salunda USA
Presenting "Crew Hawk Red Zone Monitoring – Reducing Risk With Real Time Location Tracking"
With continued developments in drill floor automation, it is becoming increasingly important to track personnel movements around operational red zones. Using real world examples and case studies, this presentation will cover the 'Real-Time' aspects of the Crew Hawk system as well as the 'Analytics' package used to analyse behaviour for continuous improvement opportunities relating to red zone breaches.
Andrew Glanville is Salunda USA's General Manager, responsible for worldwide deployments of Salunda technology in the field. His background is in drilling and exploration with previous roles at Schlumberger in Houston, TX and at the Youngsville, LA Drilling and Measurements department. Andrew has been responsible for dozens of successful deployments of Salunda' s 'Hawk Network' technology in harsh environments.
4. Logan Smith, PE, Senior Product Line Manager – Expro International
Presenting "Advancements in Conductor Operations"
Tubular running operations are steadily making advancements to improve operational efficiency by reducing personnel conductor operations, often overlooked. Due to the size and weight of these individual joints, these tubular lifting operations are critical and hazardous. Even with these challenges, equipment for these tubular sizes has remained very manual and labor-intensive requiring additional personnel in the red zone and resulting in extended running times.
In efforts to reduce rig crew requirements, the push toward hands-free conductor operations have led to many technological advancements and safer operations. Because of these innovations and hazard awareness in operations, there has been a removal of more than ten red zone entries and savings that have exceeded 1.5 hours per conductor joint.
Logan Smith graduated from the University of Louisiana at Lafayette in Mechanical Engineering in 2007. He has worked at Frank's International and now Expro in the well construction engineering and product line departments for over 16 years. During this time, he has earned his professional engineering license and holds over 30 US Patents in his area of expertise. He has also published many professional articles and five industry papers. He currently holds the role of Senior Product Line Manager in casing operations at Expro.
Reservations are required!
Deadline for reservations is Noon, Wednesday, March 22.
Contact houston@aade.org for any further questions.
Follow UpstreamCalendar.com for upcoming industry events. Upstream Calendar was created to help the industry to synchronize by providing a free lookahead for KEY industry events across the country. We focus on non-profit support, community, and industry specific 2022 Oil and Gas trade shows and conferences for Upstream, Subsea, Offshore, Downhole, Cementing, Completions, Fracking, Pumping, MUD, etc. We are FROM Upstream, FOR Upstream and believe in Networking With A Purpose.
Email Efrain@AllstreamEP.com to get involved.
2023 Oil and Gas Events Houston
2023 Oil and Gas Events Texas