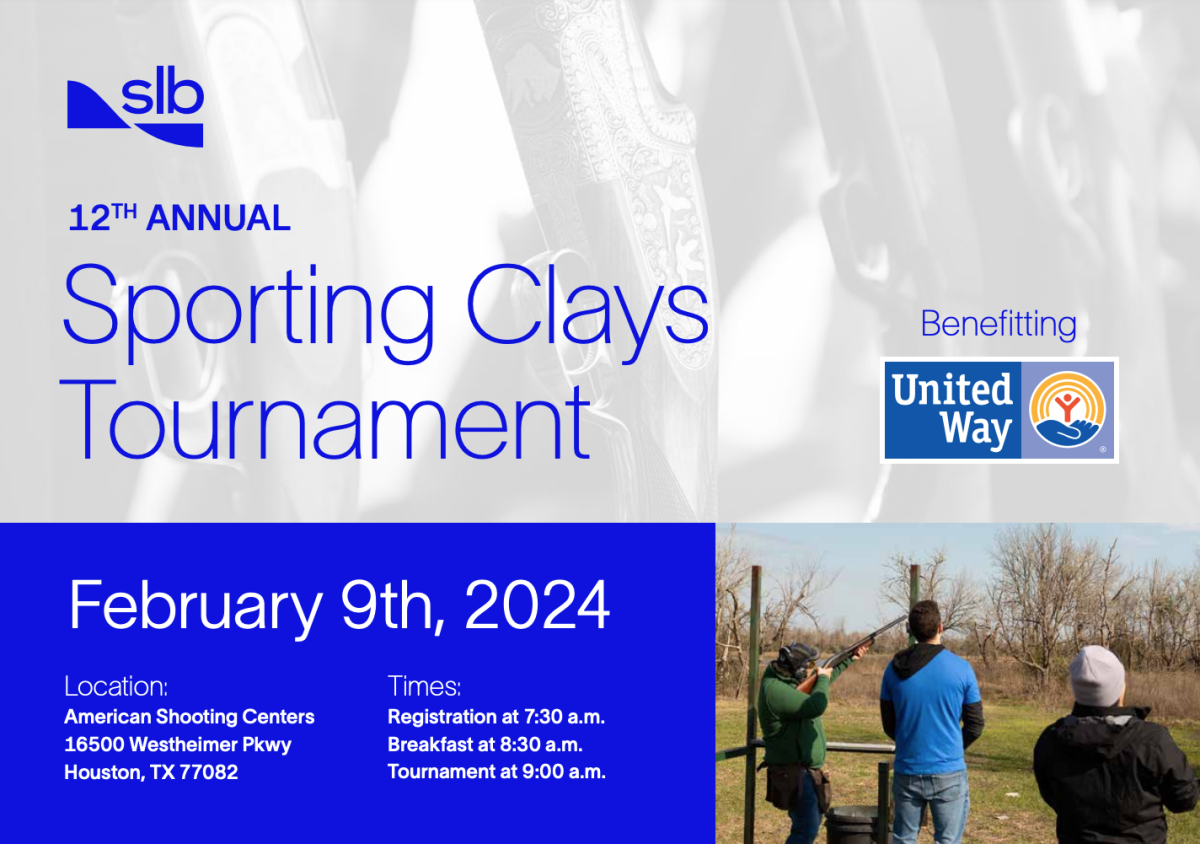 Register now for the 2024 SLB 12th Annual United Way of Greater Houston Charity Sporting Clays Tournament Feb 9, 2024 – Houston
This Event Reminder is Sponsored by:
Schlumberger is excited to host the Twelfth Annual Sporting Clays Tournament on February 9th, 2024 at the American Shooting Centers on Westheimer Parkway in Houston, Texas. The day will include a clay shoot, sponsorship awards, shooter awards, door prizes, raffle boards, gun squares, food, beverages and much more. All proceeds from this event will be donated to the United Way.
After 11 successful, consecutive record breaking events, SLB is eager to raise even more for the United Way for Greater Houston. Our tournament goal for the 2024 event is to clear $200,000, which will be matched by SLB and used in support of those needing our help the most in Houston. We recognize that there has been a significant increase in the number of people and families who are struggling to make ends meet right here in our community due to the current market conditions. The United Way is a non-profit 501 C-3 tax-deductible organization that assists children, elderly and families in need.
SLB's vision is to make this clay tournament not only a great networking event for those in oil and gas services, exploration, and production, but a yearly event where people can come and support the United Way of Greater Houston, through their participation and/or sponsorship. Our clay shoot is open to both teams and individuals. SLB is sponsoring all event costs. Your support will provide assistance, counseling & education services to individuals, couples, and families in the community through United Way. Our goal for this event is to grow larger every year. We want to raise awareness about all the good things that the United Way does and to raise money so that they can continue to help families and the Houston community.
SLB will be holding its Twelfth Annual Sporting Clays Tournament benefitting the United Way on February 9th, 2024 at the American Shooting Centers, conveniently located at 16500 Westheimer Pkwy, Houston, Texas 77082. The shoot is for both the beginner and the most experienced outdoor sportsperson, so all participants are welcome.
Agenda for the day
Volunteers Sign In
6:30 a.m.
Pick Up Team Start Location
7:30 – 8:30 a.m.
Chairmen's Remarks/Safety Overview
8:30 – 9:00 a.m.
Tournament Start
9:00 a.m.
Lunch
11:30 a.m.
Raffle Prizes, Silent Auction, and much more
7:30 a.m. – noon (Winners will be announced after lunch)