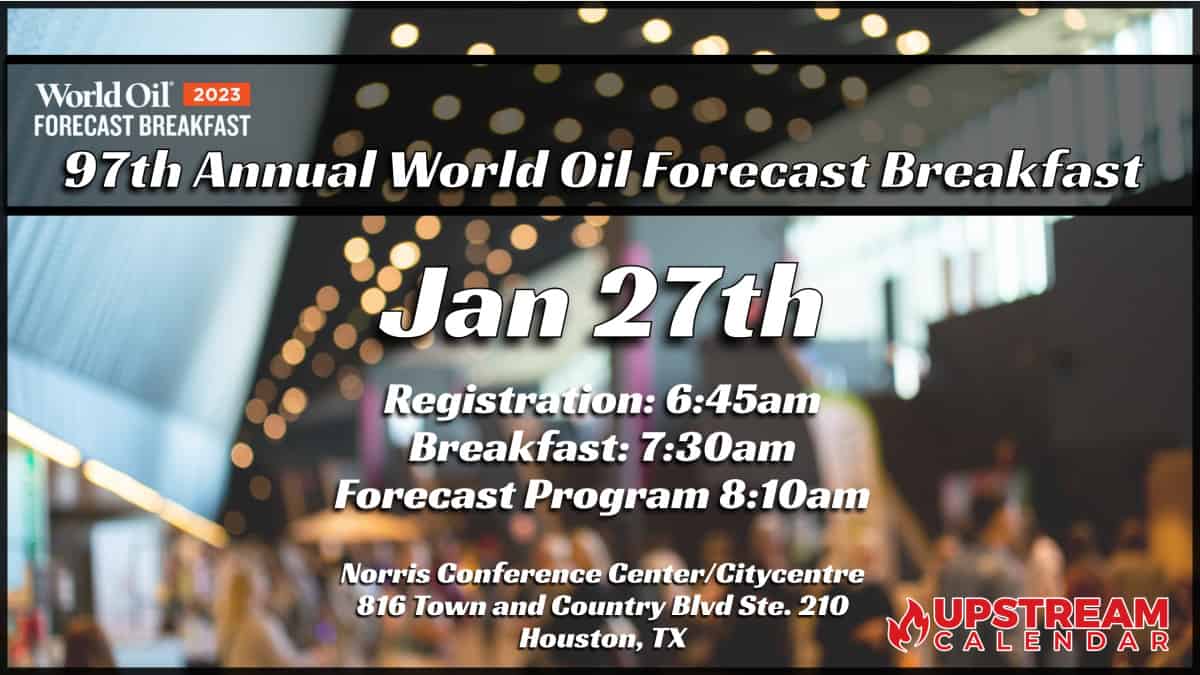 Register Now for the 2023 World Oil Forecast Breakfast Jan 27th – Houston
This Event Reminder is Sponsored by:

Now in its 97th year, the World Oil Forecast/Review is one of the upstream oil and gas industry's most trusted sources of projections and data relating to global E&P activity. And World Oil is the only entity that assembles a drilling forecast twice annually.
Utilizing data collected from proprietary surveys of governments and operators in the U.S., Canada, and worldwide, this definitive industry report includes projections for spending and worldwide drilling and production, plus an analysis of political factors impacting the industry, both domestically and abroad.
The World Oil editorial staff will present the forecast in Houston, on January 27th, over breakfast at the Norris Conference Centers – Houston CityCentre.
Norris Conference Centers – Houston City Centre, Houston, TX
Registration & Welcome Coffee: 6:45 a.m.
Breakfast Service: 7:30 a.m.
Forecast Program: 8:10 a.m.
The forecast includes:
E&P spending outlook
U.S. rig count analysis
U.S. drilling projections
International drilling projections
Canadian outlook
U.S. oil production
International oil production
Follow UpstreamCalendar.com for upcoming industry events. Upstream Calendar was created to help the industry to synchronize by providing a free lookahead for KEY industry events across the country. We are the original energy calendar and focus on non-profit support, community, and industry specific 2022 Oil and Gas trade shows and conferences for Upstream, Subsea, Offshore, Downhole, Cementing, Completions, Fracking, Pumping, MUD, etc. We are FROM Upstream, FOR Upstream and believe in Networking With A Purpose. We are a global network of oil and gas professionals that bring all streams of energy together. Follow us for upcoming oil and gas events.
Email efrain@allstreamep.com to get involved.
2023 Oil and Gas Events