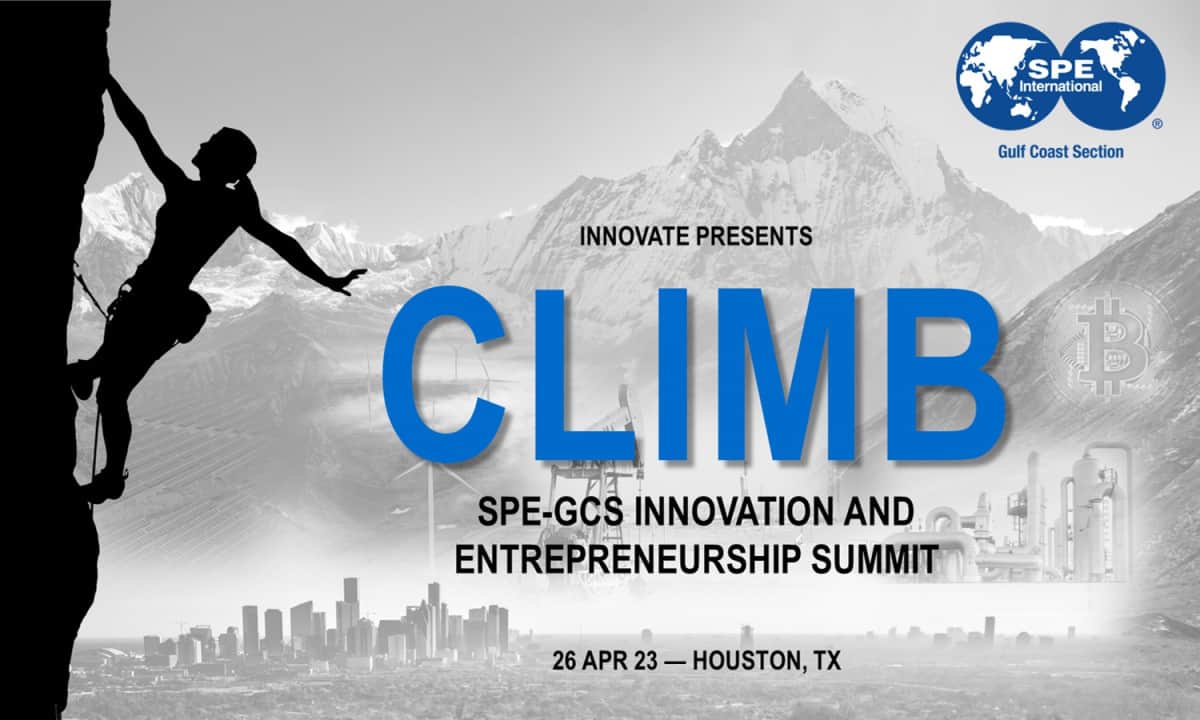 2023 Society of Petroleum Engineers Gulf Coast Section (SPE GCS) Innovation and Entrepreneurship Summit (IES) April 26th -Houston
This Event Reminder is Sponsored by:

DESCRIPTION
Sponsorship Vision
The Innovation and Entrepreneurship Summit 2023 (IES 2023) is your premier opportunity to build connections and pursue new solutions within the Energy industry. Each sponsor will access an array of curated attendees and speakers, obtain insights on current innovation and entrepreneurship trends in our energy industry, and possess diverse opportunities to promote your company and brand across the Houston Innovation Ecosystem and Energy Industry.
The SPE-GCS Innovate Committee creates a fully customized sponsorship program to help your brand obtain industry recognition, relevance, and value with a diverse audience of global Innovators and Investors, Technologists and Entrepreneurs, Business Experts, and Corporate Leaders in an exclusive full-day experience. Beyond the traditional prominent logo alignment, IES 2023 provides each sponsor with unique expressions of your brand that can connect with our audience.
Experience a partnership with SPE-GCS Innovate to share your vision and brand identity at IES 2023 and help us move the energy industry forward!
IES 2023 Theme and Program
Entrepreneurship – and Intrapreneurship – are difficult and risky undertakings. Our customer insights reveal that our Energy Industry has considerable friction to put into practice new solutions that create a valuable and viable business. Our strategic theme this year is "CLIMB", helping remove the friction that holds back any innovator and entrepreneur and enabling them to move upward to success. Our IES 2023 program has content to develop the individual, empower them to collaborate with others and partner with existing firms, and motivate them to deliver solutions that can change the energy today and tomorrow.

IES 2023 Goals
SPE-GCS Innovate Committee's vision is to "Build Better Innovators" for 2023, enabling them to change our energy industry for the better. We designed IES 2023 to attract, engage, and connect 500 attendees in our Downtown Houston, TX, venue. During our full-day event, our attendees will experience – in a unique format – speakers who address overcoming fear of innovation and change, discovering the next great energy need, building a team of energy co-founders, and leveraging intrapreneurship in a corporate environment. IES 2023 will conclude with our Shark Tank pitch competition among early-stage energy founders.
To ensure a future of sustainable growth in our energy industry, the net profits of IES 2023 support the SPE-GCS Scholarship Fund, helping to create new innovators and entrepreneurs in energy-related academic disciplines. We aim to add $100,000 to the scholarship fund from generous support of our sponsors and sales to our attendees.
Innovate Performance
Since 2014, SPE-GCS Innovate designed unique events to attract a global audience for an exclusive energy experience. Our performance metrics demonstrate delivering on our goal of connecting attendees, speakers, and sponsors as well as funding our SPE-GCS Scholarship Fund.
Standard Branding and Display Benefits
Sponsors will receive prominent recognition before, during, and after IES 2023. Prominent Logo Placement and Sponsorship Acknowledgement across a spectrum of Digital and Print formats and opportunities, including any unique designs by our sponsors. For example, Digital: Websites, Presentations, Emails, Apps, and Social Media. Physical: Banners, Posters, and Displays at Event Venue. Social media posts will express your involvement immediately and frequently.
Curated Attendee and Speaker Recruitment
Beyond branding, SPE-GCS Innovate Committee has applied many principles of innovation toward engaging and encouraging participants at IES 2023. We scour our networks to identify energy innovators, founders, leaders, and investors who need to be in attendance. To support our theme and programming, we also curate a novel array of speakers who can provide critical insights for today that are also relevant for the future.
Speakers and Sponsors Dinner: Exclusive Opportunity to Connect
Before IES 2023, our Speakers are made available to meet with our Sponsors in a private setting to discuss our Energy Industry and to hear from an exclusive speaker sharing their insights into the new directions for Innovation and Entrepreneurship for Houston.
Continuous Interactions with Attendees, Speakers, and Sponsors
Connecting with participants starts before the event begins through our Digital Event Engagement App Guidebook and continues after the event. Each participant will be able to connect and engage via their SmartPhone, review speakers and program updates, and interactively engage with your brand. Sponsors can coordinate with the SPE-GCS Innovate committee to design messages that meet your brand goals. IES 2023 will actively broadcast announcements, content, and surveys via Guidebook during the event.
Social Media and Press Releases
SPE-GCS Innovate Committee has a team of marketers who will promote your brand and connection with IES 2023 for many weeks, including press releases after the event concludes.
Share Your Innovation and Entrepreneurial Vision at IES 2023
Sponsors can uniquely communicate with the audience at IES 2023 by displaying a video of their brand and vision during our programming and reception. SPE-GCS Innovate also has access to video producers who can help you create a video unique to IES 2023 that will connect you with our audience.
Live from IES 2023 – PodCast with Speakers and Sponsors
SPE-GCS Innovate is securing a global provider of podcasts relevant to our energy industry to broadcast live from IES 2023. Our speakers will have an opportunity for a follow-up with the podcast hosts, and sponsors can coordinate opportunities for their executives and thought leaders to participate.
Event Videography Brings IES 2023 Inside Your Organization
A sponsorship opportunity exists to record the entire IES 2023 event – from opening remarks to the Shark Tank event – and share those recordings within your Organization and the Global Energy Industry. A branding opportunity is possible for the videography.
Shark-Tank Benefits
Sponsorship permits us to award critical funding for our early and seed-stage startups who pitch and win at our annual Shark Tank event. These awards are essential for startups to connect with their customers and the innovation and energy ecosystem in Houston, enabling them to prove their technology and business model. Sponsors will have access to the entire pool of Shark Tank applicants and opportunities to continue discussions with them at IES 2023.
Showcase Your Business at our Tech Tables
IES 2023 provides a limited number of Tech Tables where sponsors can attract prospective clients, recruits, and technology companies to meet in our networking reception area.
Fundraising Request
SPE-GCS Innovate Committee seeks sponsors who can collectively generate $200,000 in funds to support IES 2023. Funds are tax deductible. Sponsors can supply funds online via the SPE-GCS website or directly to SPE-GCS.
Contacting Person
Please contact Steve Louis and the SPE-GCS Sponsorship Team to discuss your customized solution and sponsorship commitment.
Steve Louis, Innovate Sponsorship
(832) 360-7630
steve.louis@promethean-decom.com
SPE-GCS Innovate Sponsorship Team
Sponsors of Innovate and IES Events 2017 – 2022
Follow UpstreamCalendar.com for upcoming industry events. Upstream Calendar was created to help the industry to synchronize by providing a free lookahead for KEY industry events across the country. We focus on non-profit support, community, and industry specific 2022 Oil and Gas trade shows and conferences for Upstream, Subsea, Offshore, Downhole, Cementing, Completions, Fracking, Pumping, MUD, etc. We are FROM Upstream, FOR Upstream and believe in Networking With A Purpose. We put all streams of energy together as the original Energy Calendar. This event is at NRG and for a full list of NRG Events Calendar follow us on our other pages. Midstream Calendar, Downstream Calendar and this one Upstream Calendar. The Energy Calendar official – sharing All Streams of Energy. Allstream Energy Partners.
2023 Oil and Gas Events Houston
2023 Permian Basin Oil and Gas events
2023 Oil and Gas Events Texas

About our Media Partner Spectrum Camera Solutions:

Spectrum Camera Solutions manufactures a full range of globally certified Explosion Proof camera systems to monitor any hazardous area. Founded in 2012, Spectrum Camera Solutions has an unparalleled background as a world leader in hazardous area vision systems for process, security, and safety, creating a new range of Explosion Proof cameras based on durable materials, innovative engineering, and operational excellence.
Designed and Manufactured in USA
NDAA Compliant & FM Approved
Spectrum Camera Solutions Explosion Proof Camera products are designed and manufactured in the USA. As a leader with a reputation for creating exciting and reliable hazardous area products, we pride ourselves in delivering outstanding execution from R&D to production as an ISO9001 & ISO14001 certified company.
Award Winning Manufacturer
As a committed leader to excellence and quality, Corporate Vision and Corporate Energy has recognized Spectrum Camera Solutions for our class-leading hazardous area products.
Being at the forefront of innovation and safety, Spectrum Camera Solutions is setting the benchmark for engineering excellence. Unique to the market, Spectrum's series of Explosion Proof Cameras utilize the latest technology available in the security camera market integrated into our dual patented housings designed to withstand harsh environmental conditions and certified for hazardous areas.