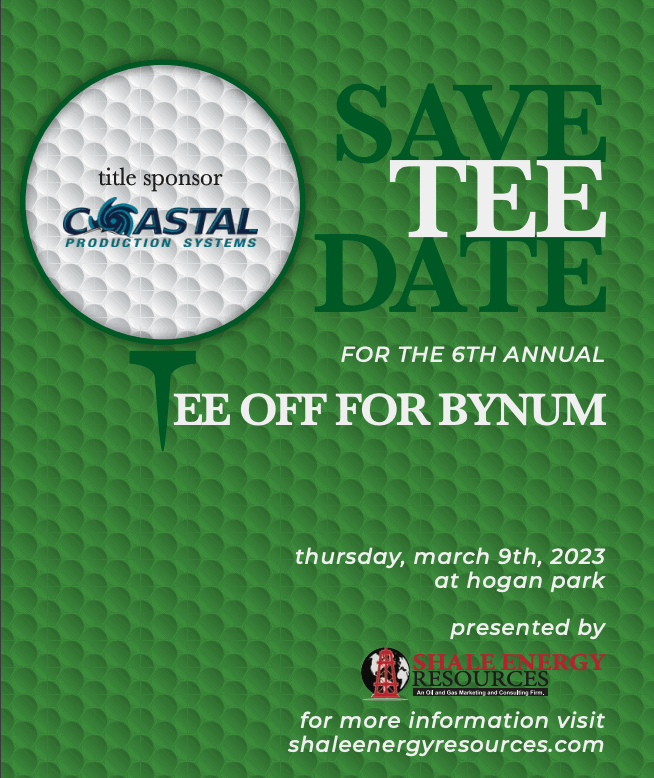 Register Now for the 2023 Shale Energy Resources 6th Annual West Texas Oilman's Tee Off For Bynum Golf Tournament March 6 – Midland
This Event Reminder is Sponsored by:

Event Starts Thursday March 9th Hogan Park Golf Course Midland
About: Tee Off For Bynum Golf Tournament March Each year at Hogan Park Golf Course Midland, Texas. Benefits The Bynum School of Midland. We have raised over $300,000 since we began this event in 2018. Each year, the Tee Off For Bynum has over 520 players and an additional 45 sponsors.
Thursday,March 9, 2023
8:00 am & 1:00 pm Shotgun Start
Hogan Park
Midland, Texas
Entry Fees: $1100 per team includes green fees, cart, Ballistic Golf, 4 mulligans, meal on the course, and prizes
Or $850 per team includes green fees, cart, meal on the course and prizes
Golfers should be at the course by 7:00 am for morning registration and 12:00 pm for afternoon registration
Please fill out and submit by email or phone with entry fees by February 24, 2023
Email: Shaleenergyresource@gmail.com
www.shaleenergyresources.com
Jeff Kennedy 903-736-8506 jeff@shaleenergyresources.com
Miranda Kennedy 903-431-8146 miranda@shaleenergyesources.com
Follow UpstreamCalendar.com for upcoming industry events. Upstream Calendar was created to help the industry to synchronize by providing a free lookahead for KEY industry events across the country. We are the original energy calendar and focus on non-profit support, community, and industry specific 2022 Oil and Gas trade shows and conferences for Upstream, Subsea, Offshore, Downhole, Cementing, Completions, Fracking, Pumping, MUD, etc. We are FROM Upstream, FOR Upstream and believe in Networking With A Purpose. We are a global network of oil and gas professionals that bring all streams of energy together. Follow us for upcoming oil and gas events.
Email efrain@allstreamep.com to get involved.
2023 Oil and Gas Events
2023 Oil and Gas Charity Events