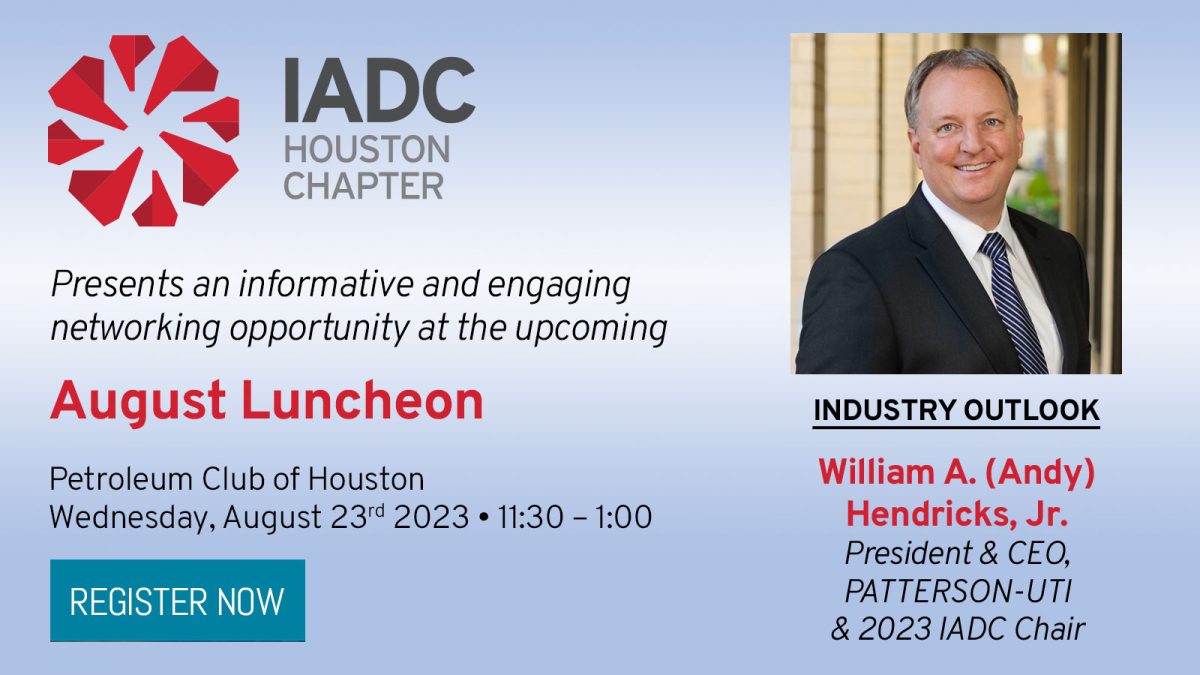 2023 IADC Chapter Chair Andy Hendricks Presents An Industry Outlook at August Luncheon August 23, 2023 – Houston
This Event Reminder is Sponsored by:

The IADC Houston Chapter invites you to attend their next luncheon on 23 August at the Petroleum Club of Houston. Andy Hendricks, Patterson-UTI President & CEO and 2023 IADC Chair, will share an industry outlook during the event. If you're interested in joining, please make sure to register!
Date: 23 August 2023
Time: 11:30 a.m. – 1:00 p.m. CT
Location: The Petroleum Club of Houston – 1201 Louisiana Street, Houston, TX 77002
All Events are Hosted for FREE courtesy of our Media Sponsors.
About our Media Sponsor Spectrum Camera Solutions:

Spectrum Camera Solutions manufactures a full range of globally certified Explosion Proof camera systems to monitor any hazardous area. Founded in 2012, Spectrum Camera Solutions has an unparalleled background as a world leader in hazardous area vision systems for process, security, and safety, creating a new range of Explosion Proof cameras based on durable materials, innovative engineering, and operational excellence.
Designed and Manufactured in USA
NDAA Compliant & FM Approved
Spectrum Camera Solutions Explosion Proof Camera products are designed and manufactured in the USA. As a leader with a reputation for creating exciting and reliable hazardous area products, we pride ourselves in delivering outstanding execution from R&D to production as an ISO9001 & ISO14001 certified company.
Award Winning Manufacturer
As a committed leader to excellence and quality, Corporate Vision and Corporate Energy has recognized Spectrum Camera Solutions for our class-leading hazardous area products.
Being at the forefront of innovation and safety, Spectrum Camera Solutions is setting the benchmark for engineering excellence. Unique to the market, Spectrum's series of Explosion Proof Cameras utilize the latest technology available in the security camera market integrated into our dual patented housings designed to withstand harsh environmental conditions and certified for hazardous areas.