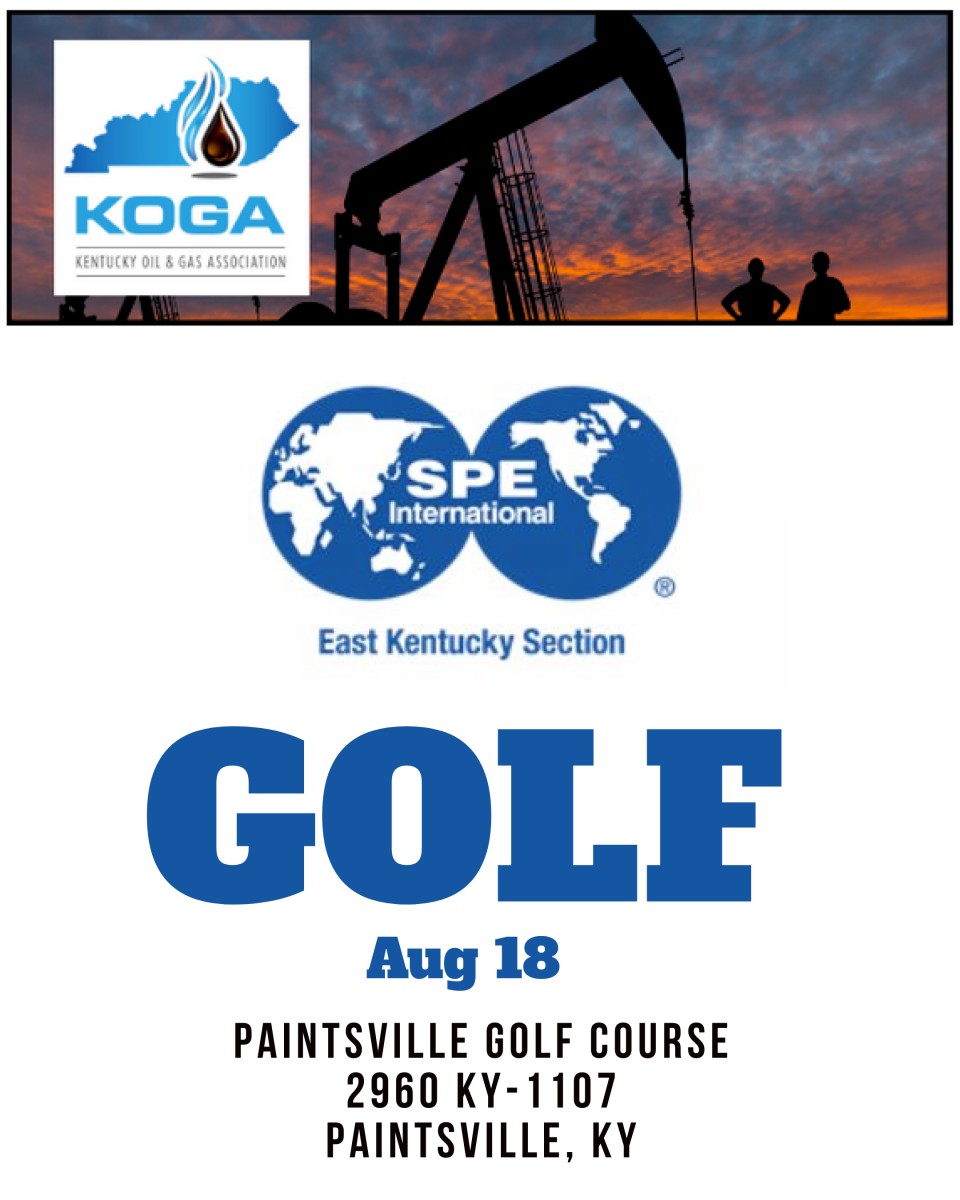 2023 East KY SPE & KOGA Annual Golf Outing Aug 18, 2023 – Kentucky
This Event Reminder is Sponsored by:

The 2023 East KY SPE Annual Golf Outing is only a month away! The golf format will be a four-man scramble-best ball, held at Paintsville Country Club in Paintsville, KY on August the 18th.
As with every year, we attempt to make this outing as good as or better than prior outings by having plenty of food prior to and during the golf outing, as well as a great lunch following the outing, capped off with a multiple door prize drawing extravaganza.
Pre-Registration is mandatory and Pre-Payment is preferred!
• Golf and Picnic $100.00/per person
• Picnic only $50.00/per person
• Hole Sponsorship $200.00/per hole
Teams will consist of four players or you will be assigned to a team. PLEASE RESPOND BY MONDAY, AUGUST 14th!
A Letter from the Section Chair to the SPE East KY Membership and Friends of the Chapter:
The East Kentucky Section of the Society of Petroleum Engineers is holding its annual golf outing on Friday, August 18, 2023, at the Paintsville Country Club in Paintsville, Kentucky. We are soliciting donations to sponsor a "hole" from all area oil & gas related industries and professionals. This sponsorship would directly assist us in raising the funds necessary for our scholarship program. Just last year, for example, we distributed $28,000 to the children and grandchildren of members of the chapter for college needs as well as scholarships to Marietta students.
The minimum donation to sponsor a hole is $200.00 (Larger donations are appreciated- see below). In recognition of your generous donation your company will be acknowledged on one of the tee boxes. We sincerely appreciate your interest in this sponsorship and thank you in advance for your continued support of our East Kentucky Section of the Society of Petroleum Engineers.
You can pay online, at the registration booth the day of the event via credit card (Square) or check, or you may mail checks payable to the East Kentucky SPE to:
C/O Mr. Michael Wallen
2188 Roswell Drive
Lexington KY 40513
If you have any questions, please call any of the officers (Danny Bryant, Derek Hina, Ed Diminick, Mike Wallen, Gary Crisp) or me at 606-922-3918.
• Special Awards Sponsor: Closest to the Pin- $500, Longest Drive- $500, Closest to the Bit- $500, Straightest Drive- $500 (signs on the tee box)
• Beverage Cart Sponsor- $1,000 (banner to be hung on the balcony of the Clubhouse)
• Food Sponsor- $1,000 (banner to be hung on the balcony of the Clubhouse)
• Tournament Sponsor- $2,500 (banner to be hung on the balcony of the Clubhouse)