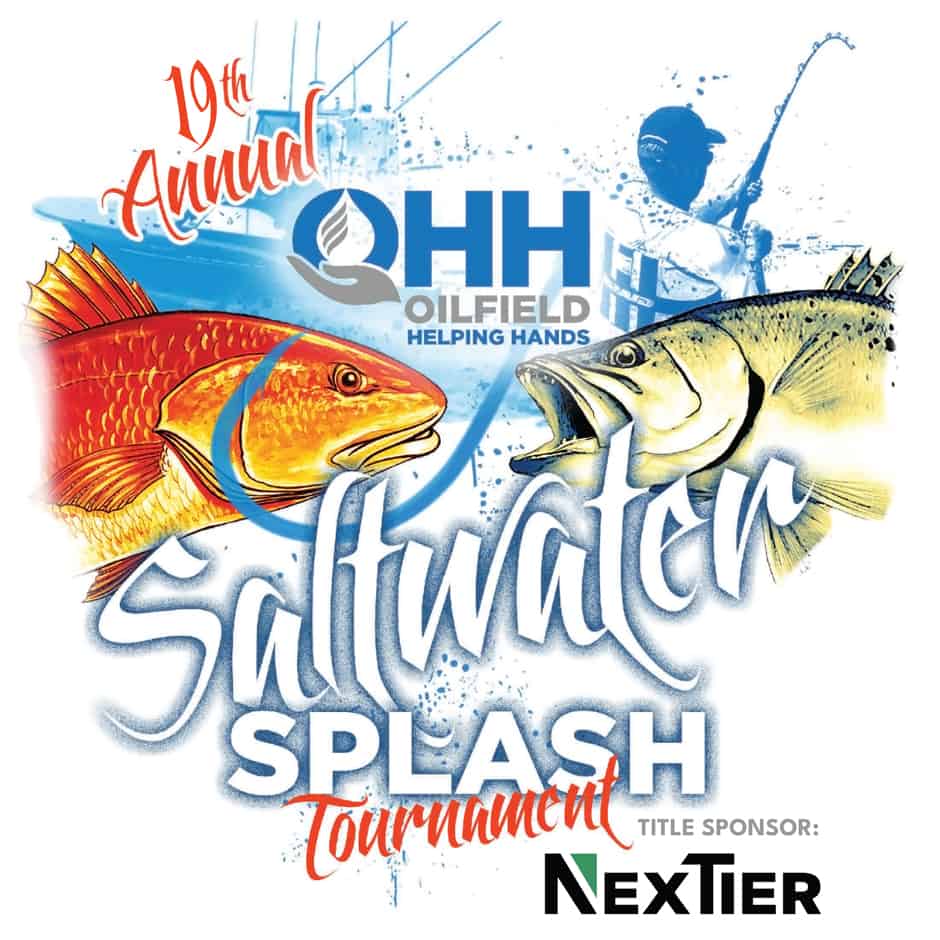 Register Now for the 19th Annual Oilfield Helping Hands OHH Saltwater Splash Tournament June 15-16, 2023 – Port O'Connor
This Event Reminder is Sponsored by:

ABOUT
Join us for a great day of fishing, fun and prizes, to benefit families in our oilfield community. The tournament will provide an opportunity for you to meet your fellow OHH members and contribute to a worthwhile cause. There is no other agency out there to "take care of our extended oilfield families," and OHH helps fill the gap. As a sponsor, you will be acknowledged at the tournament and have your company's name on the sponsorship board and recognized on the OHH website.
CHECK OUT THE GRAND DOOR PRIZE
A 2023 Polaris Sportsman 850 ATV Sage Green will be given away this year!
EVENT DETAILS
WHAT: 19th Annual OHH Saltwater Splash Tournament
WHERE: Port O'Connor Community Center
WHEN: June 15-16, 2023
SCHEDULE
THURSDAY, JUNE 15
Registration/Game Boards/Donated Door Prizes are Welcome: 4-8 p.m.
Casting Contest: 4-7 p.m.
Dinner: 5-8 p.m. provided by GeoGuidance Drilling Services
Opening Ceremony/Door Prize and Auction Items: 6:30 p.m.
Mandatory Team Captain/Guide Meeting (at least one person per team): 7:30 p.m.
Feel free to tailgate until 8 p.m. at Port O' Connor Community Center
FRIDAY, JUNE 16
Tournament Fishing – Inland Waters and Offshore: 6 a.m.-3 p.m.
Weigh-In: Port O'Connor Community Center
Weigh-In will be from 2-4 p.m.
Must be in the parking lot of the Community Center no later than 4 p.m.
Friday Evening Meal: 4-6:30 p.m. Port O'Connor Community Center provided by Nine Energy Service
Opening Ceremony Awards/Door Prizes: 5-6:30 p.m. Port O'Connor Community Center
FAQ
The team captain of every team must register their team on registration day at the Port O'Connor Community Center by 8 p.m. June 15, 2023. Discounted online registration rates of $350 per fisherman ends May 19, 2023 (final team members names and shirt sizes requested by May 19, 2023. Can't guarantee sponsored items such as t-shirts, etc. after this dateLate registration rates will increase to $400 after May 19, 2023.
A mandatory captains' meeting will be at 7:30 p.m. Thursday. (At least one person per team)
In completing your entry, you hereby waive and release Oilfield Helping Hands and allother contestants, boats, sponsors and tournament officials from all claims of injury and/or damage incurred in connection with this tournament. Additionally, you acknowledge that you have read and agree to abide by the tournament rules and attest that the provided facts are true to the best of your knowledge.
Promotional items that are not sponsored will not be given away at the event.
Late Walk Up Registration
Walk-up late registration will be available Thursday, June 15, 2023, in Port O'Connor. $400 per fisherman. Late registration after the discount deadline of May 19, 2023, will not be guaranteed sponsored items such as shirts, etc.

RULES & REGULATIONS
Any team that has not properly registered and signed in at registration can be withdrawn from the tournament. (Must be minimum of 2 and no more than 6 registered fishermen per team).
Wade fishing is acceptable; for safety reasons your partner must be within talking distance.
Each team must have a team Captain; sportsmanship, courtesy, safety, and conservation are expected from each participant.
All fishermen will fish with rod and reel only and live or artificial bait is acceptable.
Any fish which does not meet the legal minimum or is over the legal maximum size WILL NOT be accepted. Fish will be inspected for alterations in size, length and weight. Any altered fish will result in the withdrawal of any team weighing in the altered fish. No bill fish of any species will be accepted.
All tournament fishermen and boats must comply with all USCG, TPWD regulations and guidelines. The tournament directors highly recommend that kill switches be connected and U.S. Coast Guard approved life jackets be worn while main engine is running.
Guides or Charter Boats may be used during the tournament; however, the guides' catch may not be used for the weigh-in or any prizes unless the guide is a paid entrant.
First through fifth places for largest fish in each category: redfish (20"-28" and tagged), speckled trout, flounder, kingfish, snapper (any legal species), sheephead and ling.
Each team can place in only one category.
In addition, there will be two places paid for the biggest fish (i.e. shark, ray, etc.) and also be one place paid for the largest hardhead/gafftop. Ties will be broken by which team weighs-in the earliest. No bill fish of any species will be accepted. Sharks and rays will be returned to fisherman.
3 Fish Side Pot
Entry $110.00 Per Team ($10 cash discount – $100)
80-20% Payback
80% – Winning Team
20 % – OHH Charity
3 Fish Side Pot Rules and Regulations
Must be entered in OHH Saltwater Fishing Tournament.
Weigh in 3 fish consisting of (1) Trout, (1) Flounder, (1) Redfish. All fish must be of legal size, no tagged redfish. Winner will be heaviest 3 fish stringer. If there is no 3 fish stringer, the winner will be the heaviest 2 fish stringer.
Each team cannot weigh-in more than 1 fish of each species.
Ties will be broken by which team weighs in first.
A full 3 fish stringer will beat a heavier 2 fish string.
Follow UpstreamCalendar.com for upcoming industry events. Upstream Calendar was created to help the industry to synchronize by providing a free lookahead for KEY industry events across the country. We focus on non-profit support, community, and industry specific 2022 Oil and Gas trade shows and conferences for Upstream, Subsea, Offshore, Downhole, Cementing, Completions, Fracking, Pumping, MUD, etc. We are FROM Upstream, FOR Upstream and believe in Networking With A Purpose. We put all streams of energy together as the original Energy Calendar. This event is at NRG and for a full list of NRG Events Calendar follow us on our other pages. Midstream Calendar, Downstream Calendar and this one Upstream Calendar. The Energy Calendar official – sharing All Streams of Energy. Allstream Energy Partners.
2023 Oil and Gas Events